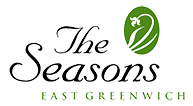 Mission:  The mission of The Seasons East Greenwich is to provide a balance of community, wellness and assisted living services to independent and memory impaired residents, while promoting resident quality of life, dignity and maximum independence.
Location:  Five Saint Elizabeth Way, East Greenwich Rhode Island
Our Community is easily accessible from Route 95 to Route 4, off Frenchtown Road and then Grand View Road. We are approximately 20 miles from Providence and Newport.
Founded:  Founded in 2002, The Seasons East Greenwich is a not-for-profit assisted living community committed to upholding the highest-standards of care and comfort, building upon the legacy of excellence established by our founders, Steere House Nursing & Rehabilitation Center and Scandinavian Home.
History:  As we celebrate fifteen years of excellence, The Seasons is pleased to have earned a reputation as a premier community offering both traditional and memory care neighborhoods. As a not-for-profit organization, we are focused on the quality of care and services we provide to our residents, versus the daily pressures to increase "the bottom line" by owners or investors.  All resources are re-invested into our community and used to increase quality staffing, improve facilities, enhance services and activities.
Facility:  Our spacious, two-story facility offers traditional and memory care neighborhoods.   Our Assisted Living Community consists of sixty-four accommodations, including private studios, one and two bedroom fully-furnished apartments, all with a private bath.  Grandview Gardens features twenty private studios apartments in a certified, secure living environment for residents with Alzheimer's disease and other related dementias.  We also offer fully-furnished apartments, complete with a private bath, for respite stays.
Assisted Living:  Each resident finds their home away from home in the privacy of a studio, one or two-bedroom apartment with a choice of services for the level of privacy, independence and assistance they select.  A trained staff is available 24 hours a day, along with a 24-hour emergency response system.   On-and off-site activities are offered regularly and well-appointed common areas offer great meeting places.
Grandview Gardens:  Ideal for those with Alzheimer's disease and other memory impairments, Grandview Gardens offers a safe and therapeutic environment which facilitates the independence, comfort and security of every resident.  The neighborhood is staffed with Alzheimer's certified personnel and 24-hour nursing support, personnel care assistance and security.  A variety of services and activities are available to promote a full and meaningful life.
Respite Stays:  The Seasons offers short-term stays for those needing respite care or those interested in a trial residency.  Patients who are being discharged from a hospital or nursing home rehabilitation program following surgery, heart attack, stroke, fracture or other, may further recuperate at The Seasons where they benefit from our support, services and amenities.  Plus we also help to coordinate outside services, such as physical and occupational therapy and lab work.  Short-stay residents stay in a fully-furnished, climate controlled apartment and need only bring their clothing, medications and personal items.
Leadership and Staff:  The Seasons Leadership Team is comprised of experienced health care industry professionals.  This Team and their staff include in-house and contract personnel providing a full range of services.
Financial Designation:  Not-for-Profit
As a non-profit organization governed by a volunteer Board of Directors, The Seasons is focused on the quality of care. Our Board is committed to ensuring that we remain true to our mission, respond to local needs and serve as an effective steward of our resources. As a not-for-profit organization, The Seasons invests all resources into increased staffing, improved facilities and enhanced services.
Ways to Help:  As a non-profit organization, The Seasons relies on the generosity of our residents, friends and family.   If you would like to help The Seasons to maintain the quality of care and services we provide, please click here to learn more.  All contributions are tax deductible to the fullest extent provided by law.